Mindconnect is a comprehensive online assessment platform.
A proud product of Mindmuzik Media.
TESTS AVAILABLE ON MINDCONNECT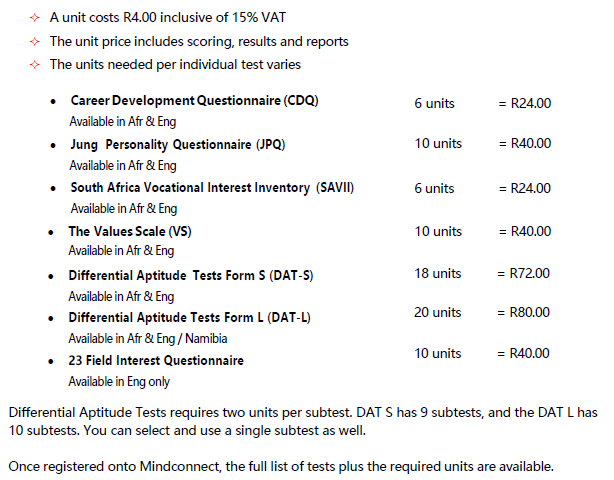 INFORMATION ON HOW TO REGISTER ONLINE, WHO TO CONTACT FOR SUPPORT, TESTS AVAILABLE, PRICES, UNITS AND MORE
The first step is to register online at: 

https://www.mindconnect.co.za/

Beverley will verify and activate your profile and send you an email to confirm.

You will then be able to log back in and explore the system.

You can contact Beverley who will assist with a one hour training via Zoom. (No CPD applicable)

You can email her for dates & times This e-mail address is being protected from spambots. You need JavaScript enabled to view it

If you need more units, you can purchase it at R4.00 inclusive of 15% VAT per unit.

Mindconnect Platform - manuals are not available online. Hardcopies must be purchased, see pricelist attached.

For any further assistance with Mindconnect you can Contact Beverley 063 402 8483 / email her 

This e-mail address is being protected from spambots. You need JavaScript enabled to view it
MINDCONNECT ONLINE TEST PLATFORM IS AVAILABLE TO HPCSA REGISTERED PRACTITIONERS AND APPROVED INTERNATIONAL USERS
psychologists,

psychometrists,

registered counsellors

and
registered interns (requires a supervisor authorisation

form)
You can view results instantly (raw scores and converted scores) and generate a report in PDF format.