EAS 2nd Edition - Electronic Assessment System
The EAS 2nd Edition is a computer aided testing system to assist users in:
administering educational and psychological tests on computer

eliminating human error by scoring tests electronically

accessing results and reports immediately

printing and exporting reports of raw scores and standard scores

printing and exporting of graphs

constructing individualised aptitude batteries

keeping records of clients

score paper and pencil tests to receive the reports and graphs

setting time limits
Tests included
With the purchase of the EAS, the client will receive the following tests included in the system:
Differential Aptitude Tests Forms K, L, R, S

Jung Personality Questionnaire

19 Field Interest Inventory

South African Vocational Interest Inventory

Career Development Questionnaire

Values Scale

Mathematical Proficiency Test (MPT 11)-in process to be added to EAS system.
All the tests, except for the Mathematical Proficiency Test, are available in Afrikaans and English. MPT11 will only be available in English.
The EAS is distributed electronically or on an usb and no additional hardware is necessary. The user-friendly interface and User Manual will enable the client to start using the EAS immediately.
Manuals
The manuals for all the assessments on the system are provided - no need for the test administrator to buy any manuals.
The Formulae Sheet for the Mathematical Proficiency Test (MPT 11) will also be provided once the test is available. This sheet can be printed for use during the administration of the MPT 11.
The User Manual is also published in the list of manuals. It explains all the steps needed to register clients, to assign tests, to start the tests, to view reports and to purchase or share units.

Cost
The purchase price is R7770.00 (incl VAT) per system.
With the purchase price users receive the system with 460 units.
The first 460 units are provided free of charge to enable users to experiment with the EAS and get to know the system. Thereafter users must purchase units to administer tests. For each test administered, units will be subtracted.
Test units
The cost per test unit is R2.25 (incl VAT). The units deducted per test administration are given below:
| | | |
| --- | --- | --- |
| Test | Units | Cost per Administration |
| DAT Form R | 16 | R36.00 |
| DAT Form K | 18 | R40.50 |
| DAT Form S | 18 | R40.50 |
| DAT Form L | 20 | R45.00 |
| Jung Personality Questionnaire | 10 | R22.50 |
| 19 Field Interest Inventory | 06 | R13.50 |
| South African Vocational Interest Inventory | 06 | R13.50 |
| Values Scale | 10 | R22.50 |
| Career Development Questionnaire | 06 | R13.50 |
| Mathematical Prodiciency Test (MPT 11)(not available yet) | 06 | R13.50 |
The DAT tests consumes 2 units per sub-test; therefore shortened batteries will cost less.
Units may be purchased online via the system (recommended) or at Mindmuzik Media via telephone, fax or e-mail.
Results
The results are given as raw scores and standardised scores, with related graphs. The administrator (psychologist/psychometrist) can export the results to be printed or copied into reports. The system does not supply written reports.
Report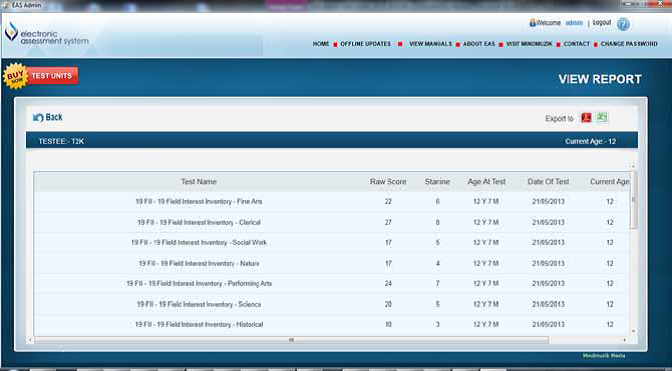 Graph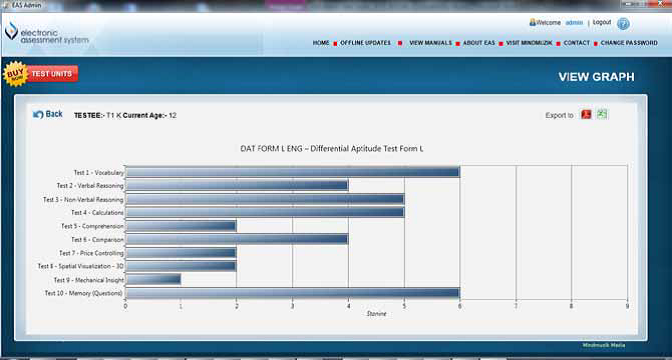 Demo Version
A demo version of the EAS 2nd Edition is available on request. The purpose of the Demo Version is to provide a potential buyer the opportunity to explore the EAS software before purchasing it. Therefore, with the Demo Version, the Administrator can use all the functions of the software except those listed below:
Purchasing test units

Sharing test units between the assessment categories

Generating reports or graphs
With the Demo Version, you will receive 60 test units. The test units will be allocated to the following designated assessment categories:
Aptitude Tests: 20

Personality and Related Tests: 20

Interest Questionnaires: 20
If the client wishes to upgrade to a Full Version to access all the functions, the purchase can be done online via the EAS system or via e mail, fax or telephone from Mindmuzik Media.
Installation
An Installation Guide is provided with the EAS, which explains the installation process in detail.
Standalone Computer
The EAS 2nd Edition comprises two components: EAS Admin and EAS Testee that can be installed on a standalone computer. The licence paid for will allow only one installation on one standalone computer.
Minimum System Requirements
Intel Core 2 Duo Processor 2Ghz

8Gb RAM

80Gb Hard Drive Space

Microsoft Windows 7 SP1 or greater

Tested on Windows 7, 8 and 10

Adobe Acrobat Reader DC

Microsoft Office 2007 or greater (Office Online NOT supported)

Internet Connection (Required)

Apple NOT supported
Network Version
We do provide a network version which comprises of three components: EAS Database to be installed on a server, EAS Admin on the administrator's machine and the EAS Testee on one or more machines.
If you wish to install the EAS Programme on a networked multi-computer environment, you must first setup the network and then connect all computers together. This is not a trivial task, and unless you are experienced, you may want to hire a local Computer/Network Technician or Network Administrator. In general, this effort includes:
Running LAN cabling from each computer location to a central hub

Configuring your hardware for network access (including printers, etc.)

Setting up your networking services (DHCP, DNS, Routers, etc.)

Setting up any other networking features you need such as email, etc.
Most Corporate / School / University networks have several security protocols in place which could affect the proper working of the EAS. Please refer to your Network Administrator before attempting to install the EAS on these types of Networks.
The EAS is a windows based application and is not compatible with Mac OS or Linux.