PLEASE EMAIL This e-mail address is being protected from spambots. You need JavaScript enabled to view it FOR PRICELIST 2023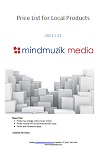 International Media: Kindly contact us for prices on international media as prices are influenced by the fluctuating exchange rate.
You are welcome to e-mail This e-mail address is being protected from spambots. You need JavaScript enabled to view it for quotations and prices.
Client Registration
1. Please note that you need to register as a client with Mindmuzik Media.
2. South African and International clients need to complete the relevant client registration form if they are not registered with Mindmuzik Media.
3. In the case of our South African clients to be able to register we need you official HPCSA number or relevant professional number.
4. Please download and fill out the application form below.
5. Print, complete and email to This e-mail address is being protected from spambots. You need JavaScript enabled to view it